ASTRAL REBIRTH – SURRENDERED TO THE BLACK IMMENSITY [CD] & LAUNCH OF NEW WINTERGLOW RECORDS WEBSITE
---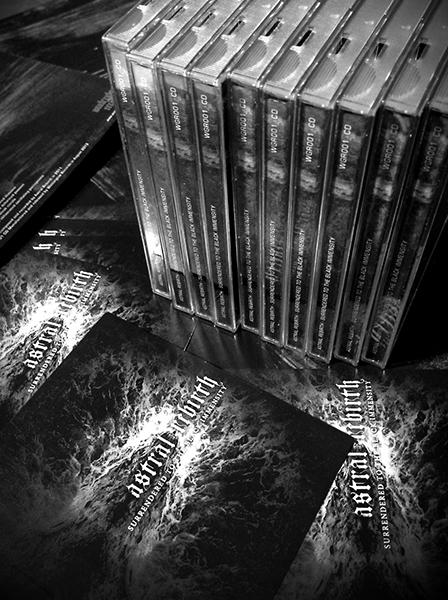 February 2014
After a long silence, Winterglow Records announces the release of the regular CD edition of "Surrendered to the Black Immensity", full length album debut by Ambient Black Metal band ASTRAL REBIRTH, a stunning bleak atmospheric work filled with the most disonant, raw and oniric sounds.
Astral Rebirth has taken a new path within the domestic Black Metal music. They have become immersed in a mysticism and a magnificent sound without precedent.
On each track we can sail into deep seas, even go into the black immensity that tries to explain this piece of artwork. Each note is a drop of water and each track an ocean to travel, it is a surrounding atmosphere of jagged soundscapes.
Their mesmerizing sound brings us immediately to mind works from Darkspace, Paysage d'Hiver, Xasthur, Leviathan and Velvet Cacoon.
To sail in the black ocean and to feel a morbid fusion with it, that is what we find in this astonishing piece of art.
ASTRAL REBIRTH – SURRENDERED TO THE BLACK IMMENSITY
Trasklisting:
I.  Multiform trauma
II.  Mantle full of crystals
III. In eternal black shattered illusions
IV. Transfiguration of a deformed passion
V.  The night pours bleak corals
VI.  Descent into obfuscated oscillating perceptions
Six ambient black metal tracks in 63:40 minutes.
The album is available as both a digital and physical release (Envelope Edition and Regular CD)
ORDER IT NOW
Furthermore, we have completely redesigned our website layout with simplicity, and a strong focus on content delivery in mind, and starting with our customer needs in mind we've focused on making the site easier, more interactive and providing greater supporting resources.